ArKaos has created a new way of communication.
ArKaos has a large installed base of creative users that express the needs to work in architectural lighting.
ArKaos products are naturally at ease in this industry with the addition of the An-Ki scheduler. There is a natural trend for light designers to use their expertise in architainment when their tools are compatible.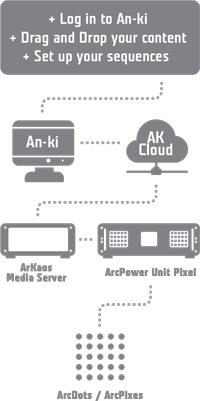 An-Ki
Working over the internet, An-Ki enables digital content appearing as projections or on any LED mappable surfaces / devices to be updated, synched or tweaked in just a couple of clicks. The An-Ki player will synchronize video sources running on two or more MediaMaster server anywhere in the world. An-Ki is completely switchable, making MediaMaster a true multi-faceted show control product that can swap seamlessly between show and installation scenarios. An-Ki combined with Kling-Net, Kling-Force and our media servers range is making a unique offering in this landscape.
Latest Installation