The ArKaos Video Mapper is an extension for MediaMaster Pro 3 which allows easy mapping of video onto irregularly shaped surfaces and through multiple outputs.
Designed to let you setup mapping projects in very short times, it makes it incredibly simple to flow visuals around complex objects with just a few clicks.
Once you launch the extension, MediaMaster Pro will send the output from each layer to virtual "surfaces" that can be scaled, deformed, and assigned to any physical output. One output can display a full screen visual or a composition of several mapped visuals; output to a video projector and you can map the surfaces to any physical volume (like objects or building).
Mapping Editor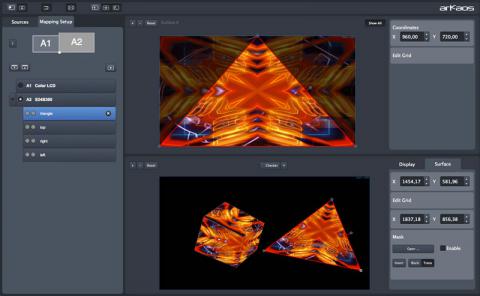 The mapping editor is where you edit and manage the surfaces and any connected output.
It is a very easy tool which integrates tightly with MediaMaster Pro: it will show your layer from MediaMaster Pro playing on the surface you have defined and it will also immediately send any surface you create to MediaMaster Pro, ready to be used for display!
Video presentation
The MediaMaster Pro video presentation features a brief introduction about the Video Mapper and how it can be used to easily setup a video projection mapping on complex 3D objects.
Video Mapping on multiple screens
Here's Toon demonstrating how you can use the new ArKaos Video Mapper extension for MediaMaster Pro on a set of LED panels. It was recorded at the InfoComm in Las Vegas.
Features overview
Fast and intuitive user interface
Full management of display specifications (resolution / frequency)
Supports output to multiple video cards
Easy to use deformable surfaces (rectangles, grids, triangles)
Each surface can have an optional mask
Surface cropping, allows to select a part of the layer output
Surface grouping, to send one layer to many surfaces
Full undo / redo implementation
Import and export your mapping
Works with MediaMaster Pro, in Simple Mode and Fixture Mode
Works on Mac and PC