New MediaMaster Express 5.4
What's New in MediaMaster Express 5.4
Improved support and performance for 4K outputs. [Windows]
New DirectX 11 optimized render pipeline. [Windows]
Global optimization of rendering performances. [Windows]
Hardware accelerated HAP decoder. [Windows]
Timecode support through Art-Net.
And More ...
Rendering and performance
The new software version will boost rendering and performance of this powerful and flexible control system by 33% utilising the same hardware. This had been extensively tested on ArKaos's professional sever range, running Windows 10. This technology is in line with the latest existing 4K media servers and those coming to the market
The 'plug-and-play'
Philosophy behind all ArKaos' control solutions focus on making video surfaces, screens, etc., work just like moving lights. The goal is to empower lighting designers, programmers and operators and help make the integration of video and pixel lightsources seamless with lighting in their visual designs via DMX control and without needing to utilize a separate video controller.
Video through the lighting consoles
This opens up the revolutionary use of the lighting console's to drive video sources. Whatever the size and scale of the show – from the smallest and most intricate to the largest and most complex – the principal is the same. The person operating the lighting console can have the capacity to run all visual elements together. The MediaMaster 5 upgrade is fixture based and introduces fixture personalities for the various video entities to the lighting console – just as if they were moving lights. There will no longer be a need to build special personalities for these video elements giving MediaMaster an even more flexibility as a visual control system.
Intuitive And Easy To Use
Designed to be fast and easy, MediaMaster Express is a unique solution for video control on the market. This intuitive software allows you to program and run full visual shows in just a few clicks, without the need of training and practicing!
Once you're ready, go live and take control of your show using only a few channels on your lighting desk, notes on a MIDI controller or just your computer keyboard..
Program Your Own Show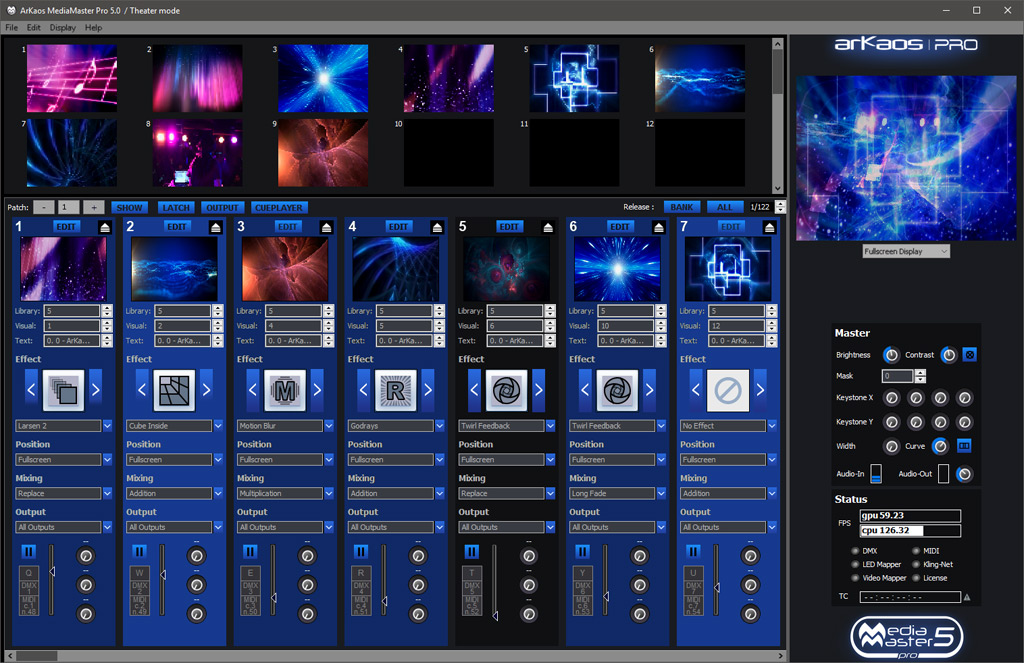 MediaMaster Express' simple interface lets you apply the latest dynamic effects to your videos and easily program a whole show with visual presets and transitions.
Take total control of your media: position, scale, rotate, adjust transparency, alpha, colors, etc. MediaMaster supports all major media formats, multiple video inputs, and provides more than 60 effects with controllable parameters.
MediaMaster's efficient media library management can store up to 60,000 visuals in more than 200 folders and lets you delete and move files at your convenience without having to re-stack a programmed show.
Compose On Up To 12 Layers
Mix visuals and effects on up to 12 layers, compose them together with transparency and masking modes - or send each layer to a different output to create a large scale projection.
Industry Standard
MediaMaster Express has proven to be an ideal solution for small to medium sized video installations in various venues such as Theatres, Clubs, Bars, Shopping Centres, Advertising displays, Sports Stadiums, Shops and even Fitness clubs..
You're In Control
From a small DMX fader control to a full size lighting desk, with a MIDI controller or just your computer's keyboard, MediaMaster's flexible interface will let you setup the software the way it best fits your controller.
From there, you can simply play / stop your videos or take control of every parameters.
Video Welcomes Audio
MediaMaster can play and mix the audio track from your movie files. This feature, which comes with global audio volume control through DMX or MIDI, turns your controller into a professional A/V mixer.
MediaMaster also comes with audio reactive visualizers as powerful visual animations creating nice ambient visuals, perfect for clubs, live DJ performances or LED installations.
Easy LED Mapping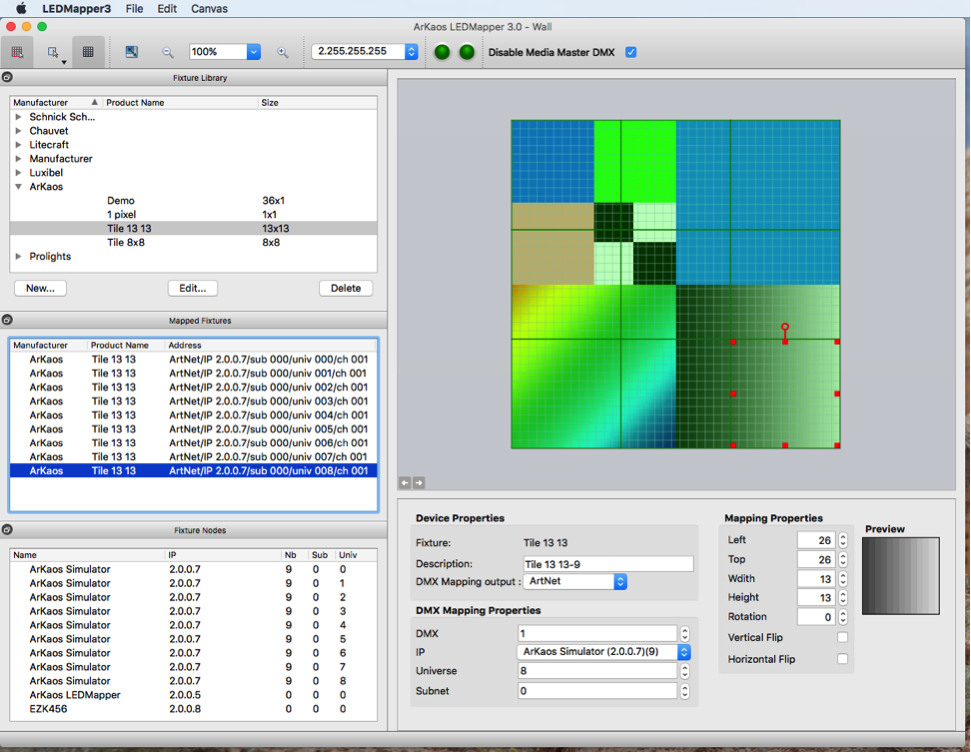 MediaMaster includes the intuitive LED Mapper extension, ArKaos' flexible software solution to drive LED panels.
The Mapping Editor lets you pick devices from an extensive library and place them interactively on the screen. While editing the mapping configuration, you can view the result of your configuration in real time as it is sent over ArtNet to your LCD panels (supports still pictures only).
Once happy with your mapping, you can save it to a file and import it into MediaMaster which will broadcast its output according to your specific configuration.
Even better, LED fixtures compatible with ArKaos' Kling-Net protocol will connect and configure themselves automatically. No more complicated setup process, forget about the IP addresses!
Need Some Footage?
The software installer that you can download from this web site already comes with some video loops to get you started.. Okay you need high quality? The boxed version comes shipped with an additional DVD-Rom containing 4.1 GB of exclusive video footage in High Definition and Standard Definition.
Want More? You Can Get More!
You need to work on bigger setups? No worries, MediaMaster Express is the perfect solution to start with, but if you want even more professional control you can always upgrade to MediaMaster Pro and get access to expert features such as MSEx compatibility, full fixture mode, advanced soft-edge & geometry correction, the new Video Mapper Extension and much, much more..
Go For A Full Demo!
Want to try it? Download the MediaMaster Express Demo Version and start playing immediately!
This software uses the NDI™ library. NDI™ is a trademark of NewTek, Inc.
http://NDI.NewTek.com/