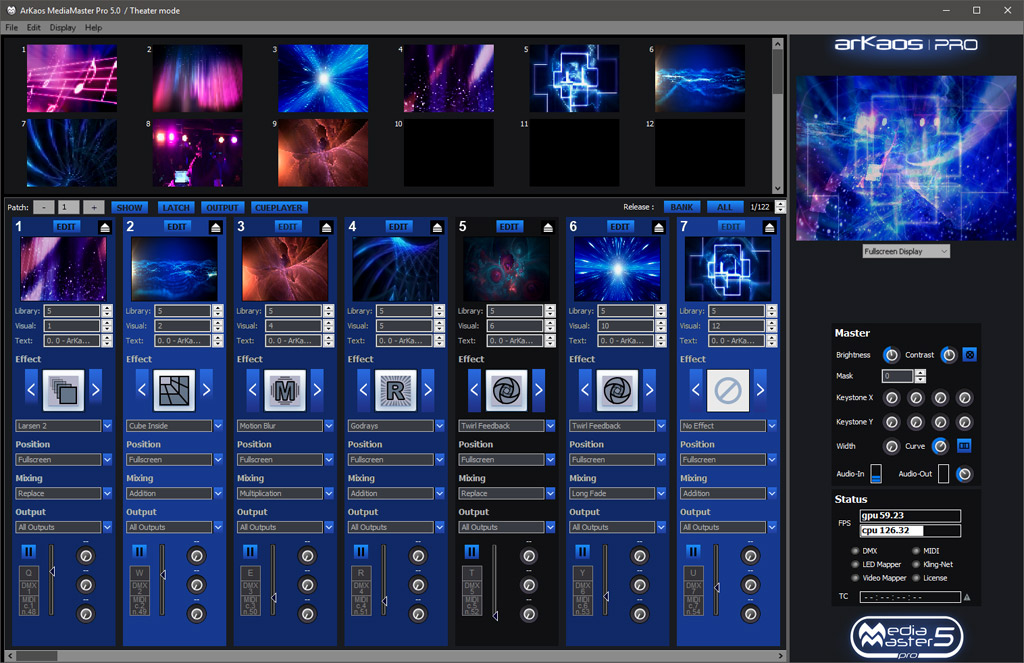 ArKaos Pro announces the official release of the new MediaMaster Pro 5.0 with MediaHub. The launch of MediaMaster Pro 5.0 at Plasa, UK follows a successful preview at Prolight+Sound in Frankfurt earlier this year.
What is MediaMaster Pro?
ArKaos MediaMaster Pro is a professional software solution for the control of real-time video and effects which is specifically designed for desk operators and lighting designers. MediaMaster Pro turns any computer into a powerful media server ready to perform at any professional level.
Precisely align the real-time video content over non-planar or curved screens
Transform any powerful computer into a Media Server for professional lighting consoles driven by DMX, Art-Net, Time Code and MIDI
Setup mapping projects quickly with just a few clicks on multiple outputs
Interactively place LED devices on the screen and view results real-time over ArtNet and Kling-Net
Play and mix audio tracks from movie files and turn any controller into a professional A/V mixer
Create powerful visual animations that react to the audio input
What's NEW in MediaMaster Pro 5.0?
VIDEO: The NEW ArKaos MediaMaster Pro 5 - An Overview
With the introduction of MediaMaster Pro 5.0 ArKaos continues to stay ahead of the competition by combining maximum functionality with simplicity of operation. MediaMaster Pro 5.0 retains the user-friendly and broad functionality that has become the trademark of the ArKaos product range.
MediaMaster Pro 5.0 introduces MediaHub, a new powerful tool designed to:
Swiftly share your content between servers or computers over networks
Easily synchronise your content library over networks
Remotely monitor the status of any additional machine running MediaMaster
Import your new content remotely in the library of any server
Organise your library of content remotely from any computer
Safely synchronise your newest content or your backup server just before a show
MediaMaster Pro 5.0 Enhancements:
Up to 36 layers to prepare, play and output more visuals and effects (Available in Theater and Fixture Mode)
Easily synchronise text with the new lyric player especially designed for singers, church performances and corporate presentations
Enhanced DMX patching over multiple universes and auto-patching feature
New and improved appearance of the user interface
LED Mapper Integration Features:
Automatic discovery of Art-Net nodes connected on a network
Unicast connection to fixtures for optimal network bandwidth usage
Capability to run simultaneously with MediaMaster
Updated LEDMapper supporting larger network thanks to unicast
How to Upgrade to MediaMaster Pro 5.0
The new functions and creative capabilities of MediaMaster Pro 5.0 are available at a fraction of the cost of media servers, making MediaMaster Pro 5.0 the most affordable media server software solution on the market.
License upgrades are available from MediaMaster Pro 4.x to MediaMaster Pro 5.0 and from MediaMaster Express 4.x to MediaMaster Express 5.0.
For upgrades and purchasing information, please visit our ArKaos Pro Web Shop at www.arkaos.net/web_shop
See ArKaos products in action and meet one of our representatives at LDI In Las Vegas, October, 21-23 | Booth 2252!
About Arkaos:
ArKaos is the leading provider of real-time visual processing technologies for live visual performances. Founded in 1996, the company develops visual synthesizers that integrate and synchronize video and music for visual shows and live performances.
Our mission is to give people flexible, powerful and easy-to-use products based on operational simplicity and accessibility for users of all levels – a philosophy which sets us apart from other media software manufacturers. Simplicity and accessibility without compromising performance.
For more information about ArKaos MediaMaster Pro 5.0, ArKaos Media Servers and video software, visit our website at www.arkaos.net, where you can find a distributor near you.
For more information on ArKaos please contact:
Agnes Wojewoda
Managing Director
Tel: +32 (0)2 340 86 86
Mail: contact@arkaos.net
Web: pro.arkaos.com / www.arkaos.net
For ArKaos Press enquiries please contact:
Julie Harper
PR & Marketing
Tel: +44 (0)7990 974388/ +44 (0)1323 416810
Email: julie@joolzharper.co.uk