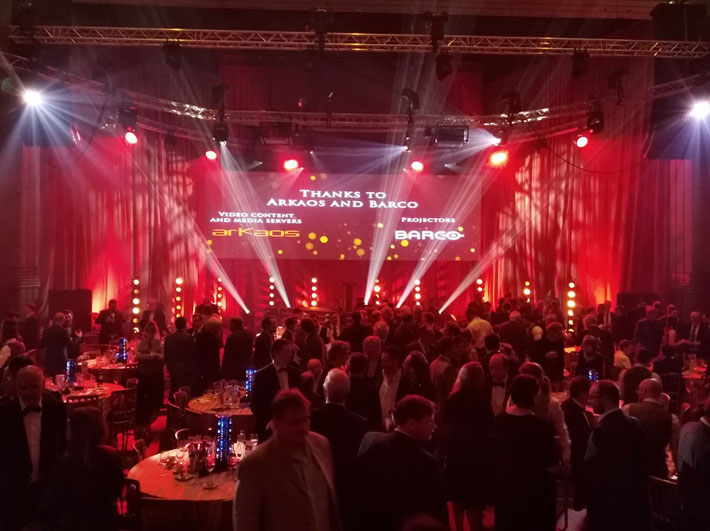 2017 marks the tenth Knight of Illumination Awards, which celebrate the creative talents of international lighting and digital content designers working on Theatre, TV and Concert Touring and Events in the UK.
The prestigious ceremony was held on 17 September at London's Eventim Apollo and once again coincided with the PLASA London 2017 exhibition. Internationally renowned production manager Ola Melzig - head of production for Eurovision 2017 - was chosen to host this edition of the KOI Awards. The show was attended by more than 500 entertainment technology industry professionals.
ArKaos was a proud sponsor of the ceremony, providing video content for the show using an ArKaos MediaMaster, operated by our colleagues from The Creative Factory, a Belgium based Design and Production company. Video was designed by the talented Maxime Guislain.
During the dazzling evening, 24 respected designers were awarded with the iconic KOI sword. The winners are as follows:
THEATRE
Winner of The ADB Theatre Award for Plays: Richard Howell for Guards at the Taj
Winner of The ETC Theatre Award for Dance: Fabiana Piccioli for Echoes
Winner of The PRG XL Video Theatre Award for Musicals: David Hersey for Fiddler on the Roof
Winner of The Hawthorn Theatre Award for Projection Design: Lysander Ashton for City of Glass
Winner of The Robert Juliat Theatre Award for Opera: Simon Corder for The Queen of Spades
TELEVISION
Winner of The Light Initiative Television Award for Events: Bernie Davis for BBC1's Festival of Remembrance
Winner of The Philips Vari-Lite Television Award for Drama: Dominic Clemence for CBBC's Hetty Feather
Winner of The SLX Television Award for Light Entertainment: Martin Kempton for BBC1's Peter Pan Goes Wrong
Winner of The Green Hippo Television Award for Video Graphic Display: David Newton for BBC1's Strictly Come Dancing
Winner of The Altman Lighting Television Award for Small Production: Chris Hollier and Andy Cottey for ITV's Euros 2016
CONCERT TOURING AND EVENTS
Winner of The MA Lighting Award for Club: Louis Oliver and James Scott for You Me At Six
Winner of The HSL Award for Events: Mike Smith and Cate Carter for Samsung x Royal Blood
Winner of The Avolites Award for Stage: Michael Straun for The xx
Winner of The d3 Technologies Award for Video Electronic Content: Liam Tomaszewski, Mark Calvert, Dave Green and Ross Chapple for Eric Prydz: Epic 5.0
Winner of The GLP Award for Arena: Jeremy Lechterman and Jackson Gallagher for alt-J
Whilst applauding the accomplishments of such men and women, the KOI Awards simultaneously forge a closer bond between the field of lighting & video design and the entertainment industry as a whole.
Photo: